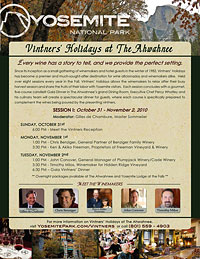 We're excited to tell you about a wonderful event that we're participating in this year: the 29th annual Vintners' Holidays at The Ahwahnee in Yosemite National Park. Join us for a series of special wine tastings, seminars, receptions and a gourmet five-course finale dinner (by candlelight!) prepared by The Ahwahnee's Executive Chef Percy Whatley, all created to pair with our wines. The Ahwahnee is a true gem, located in a stunning natural setting surrounded by granite cliff faces and sky-reaching cedars. It is a real joy to participate in this amazing event and I hope you'll join us to experience some viticulture for yourself.
For more details click here or visit the Vintner's Holidays website (www.yosemitepark.com/vintners).

We'd be honored to have you as part of our family.
If you'd like periodic updates and access to our limited-availability wines, click below to sign up:


Drink Well and Do Good with Friends of Freeman
LEARN MORE