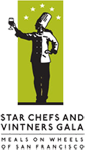 Festival Pavilion, Fort Mason Center [ Map it ]
The 23rd Annual Star Chefs & Vintners Gala benefits Meals on Wheels. Chef Nancy Oakes of Boulevard will once again lead the most illustrious line-up of culinary talents, along with the most celebrated vintners of Northern California.
For more information or to purchase tickets click here.

We'd be honored to have you as part of our family.
If you'd like periodic updates and access to our limited-availability wines, click below to sign up:


Drink Well and Do Good with Friends of Freeman
LEARN MORE